The ' Planet Earth ' Soundbank by CHE for the ' Image Line - Harmor ' Virtual Synthesizer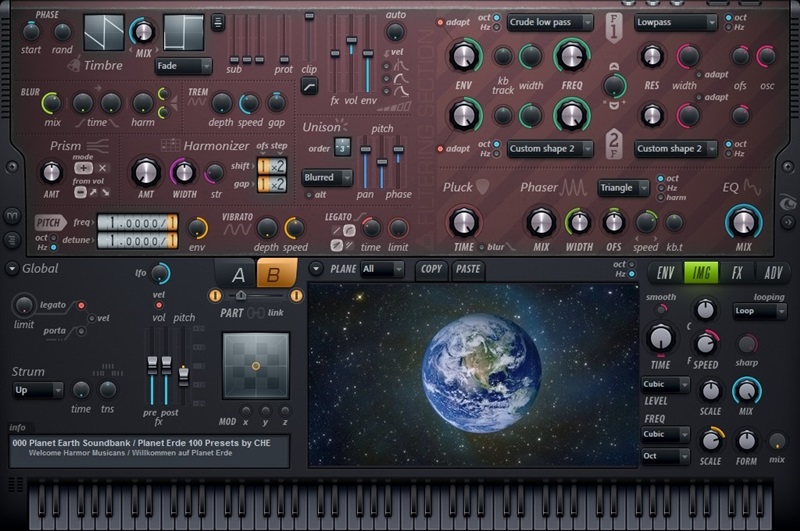 Thanks to the Image Line - Harmor Team for this innovative new virtual synthesizer.
Hi, Harmor Virtual Synthesizer Users, Music makers, Artists and Aliens.
Here is a free, fresh, handcrafted & energetic soundset by Che for the
Image Line - Harmor, the imaginative innovative Synthesizer.
Featuring a unique and modern additive synthesis engine
that emulates classic subtractive synthesis as well.
• Inside: 1 Soundset ' Planet Earth ' with 100 Presets
• Format: Soundbank & Singles [.FST / .FXP]
• Sound Design by: Che from Sonic Sirius
• For: Image Line - Harmor v1.3 or later
• Info: Information - Installation Info
• Release Date: Autumn 2015
• File Size: 104 MB
• Genre: Various
• Price: Free
Sonic Sirius - Synthesizer Soundsets
Freeware Soundsets for Software and Hardware Synthesizer
http://ohlenbostelhelge.magix.net/public/
Royalty Free Soundset License All ' Sonic Sirius ' Freeware Soundsets they can be used commercially in
things like movies, games, and anything else you might need a cool
sound for. You may not however redistribute them for a profit.
Install Instructions
1. Unrar the Soundset File (with Winrar or the Free 7-Zip) and copy the Soundbank Folder:
" Planet Earth by CHE for Harmor " into the Harmor ' Presets ' directory
(Example): C:UsersYourNameDocumentsImage-LineDataHarmor
There is a Folder : " Harmor - Planet Earth - WAV Samples "
Copy & Paste the Content of the Folder in the Harmor Preset Samples Folder
(Example:) C:Program FilesVstpluginsIL HarmorPresetsSamples

Open Harmor, select your bank

Enjoy!
Inside the Download also 3 elder Harmor Soundbanks in *.fst Format !
- The ' 100 E-lec-tro Sounds ' by CHE for the Image Line - Harmor VSTi
- The ' Astro Soundset ' by CHE for the Image Line - Harmor VSTi
- The ' Hopi Soundset ' by CHE for the Image Line - Harmor VSTi