This rack was originally posted here.
Please visit my site for many more free packs, and Ableton tips: afrodjmac.com
---
Easily add Sub Bass to any Synthesizer in Ableton Live!
Sub bass is an important part of many types of electronic music. It is not so much heard as it is felt. It can give a track tremendous power. For this free Ableton Live Pack, I have created an instrument rack that features two different chains. The first contains a simple sine wave synth that provides the sub bass. The second chain is almost empty, leaving room for you to drop any instrument you'd like to add a little sub bass to.
---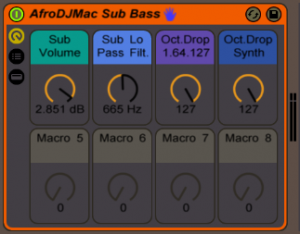 ---
The first macro knob allows you to mix in the sub bass to the desired volume. It is useful for balancing it with your main synth sound. Next there is a macro that controls a low pass filter on the sub bass. I use this for preventing any higher pitched sounds from being heard. Third, is an octave shifter for the sub bass. This allows you to shift the pitch down by 1-3 octaves. It's good for when you are playing higher notes, but still want the sub bass to be very low. The final macro is an octave shifter for the main synth sound. This allows you to get the relative octaves of the two synths exactly as you like. I've left the last four macros open in case you'd like to map some of your synthesizers parameters to them.
---
---
So there it is, I hope you enjoy it and it makes its way into your own productions. If you liked the synth sounds I used in the video, then be sure to check out the Moog Big Phatty Pack I've created. And as always, if you use any of these Ableton Instruments in your productions, send them along, I'd love to hear them in the wild.