UVI FALCON ETHEREAL STARFIELDS SOUNDSET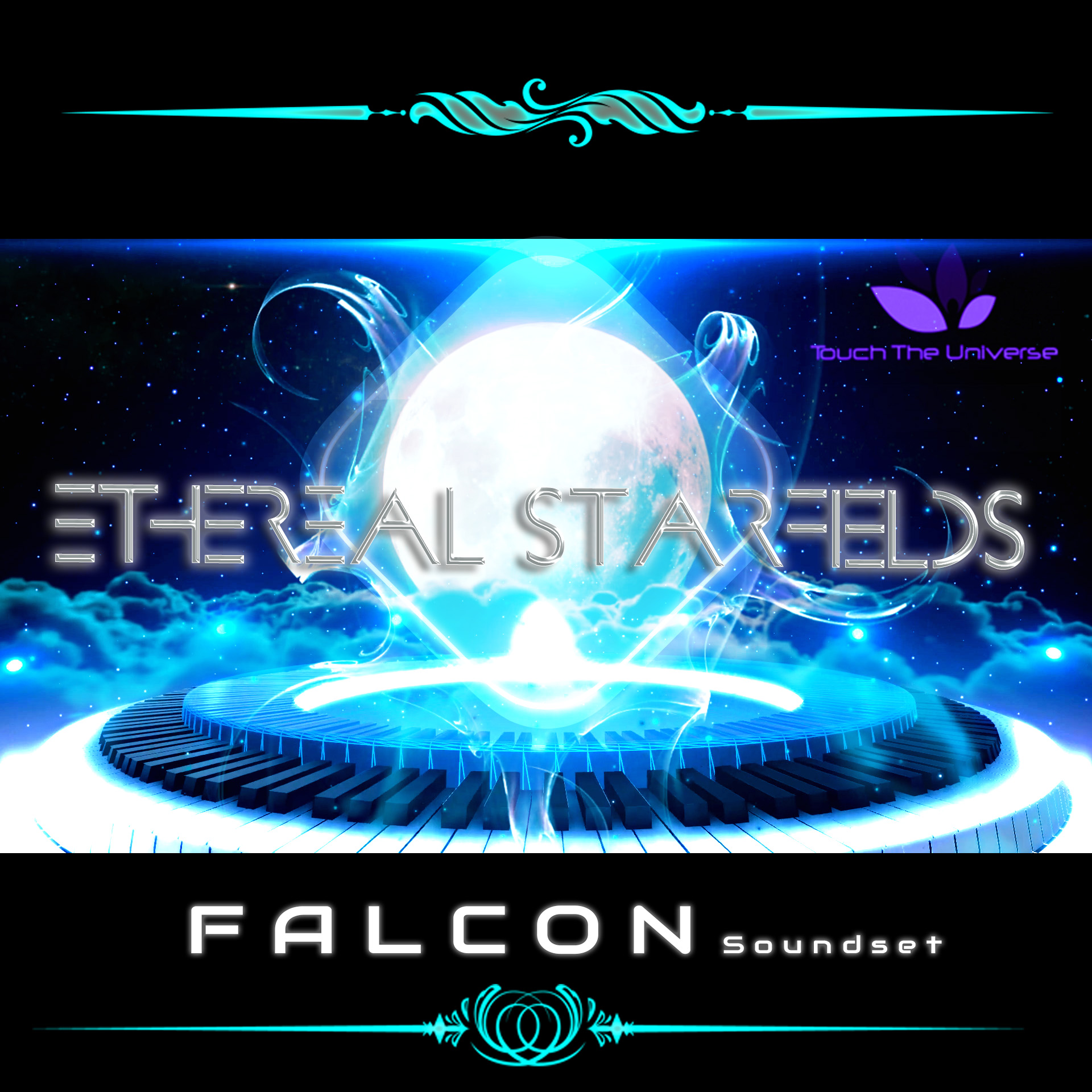 SOUNDSET DESCRIPTION
Ethereal Starfields for UVI Falcon contains 167 high quality presets suitable for any contemporary electronic or ambient music genres spread out in a variety of categories. It includes many gorgeous soundscapes, mystical flowing pads, ethereal keys and plucks, and many piercing basses and leads as sharp as a falcon's talons that will pierce through the mix quite elegantly I've found. It also includes original vocal samples recorded by my female friend covering 12 patches, in addition to some vocal plucks. There is also 350MB of embedded sample content embedded in patches used primarily for the granular and time stretched sample engines.
Falcon has quickly become one of my all time favorite synths due to its vast capabilities and sheer quality of synth engines and in built fx, not to mention the sequencers galore and the sheer unlimited structure of designing sounds with unlimited modulations, lfo, envelopes and sequences. It is a sound designer's dream come true! It is on par with Steinberg Halion, no doubt. The inbuilt FX are extensive and high quality and can sculpt the sound quite dramatically. I've also created the best psy trance basslines I've ever had in the synth. Furthermore, I found myself spending almost one month on this soundset, creating the patches and the demo track, several of them in fact. I definitely found myself lost in the zone, totally in a pure state of flow sound designing. Such a beautiful synth and time exploring.
THE SOUNDSET IS AVAILABLE IN 3 VERSIONS.
Presets Only = $24 Presets with 21 MIDI files = $ 29 Presets, MIDI, and 2 Studio One Project Files used to create the audio showcase, in addition to 131 Waves files that were used to make the audio showcase.
VIDEO SHOWCASE
An optional MIDI pack is also available for an additional $5, which includes 21 MIDI Files (over 40 merged patterns) used in the audio showcases. These are extremely useful to work with when trying out the presets as the automation is preserved in the MIDI File!
I've also included a Project and STREAMS version, which contains 130 audio streams used in the video showcase as well as both Studio One project files I used to make the showcase. One contains the live synths. The other, the arrangement of the streamed audio files. Feel free to remix if you'd like, just add Touch The Universe somewhere in the track title if you release it.
SOUNDSET DETAILS
Includes 167 Presets for UVI Falcon
Includes 12 Original Vocals Samples recorded from a female friend singer, Andie, by Touch The Universe
Includes over 350 MB of embedded sample content, mostly used in the granular and time stretch sampler engines as single wave forms.
Optionally includes 21 MIDI files used in the audio showcases
The Project File and Stream version contacts 2 Studio One Project Files used in the audio showcase in addition to 130 stream wave files that were used in the showcase, weighing 770MB.
All patches are volume normalized. (They won't clip and have equal volume levels when scanning between presets)
Includes a detailed pdf file for step by step instructions with pictures on how to install the soundset for both mac and win.
PATCH BREAKDOWN (167 PATCHES)
Basses - 51
Drums - 4
SFX - 5
Leads - 29
Pads - 35
Plucks - 31
SFX - 5
Vocals - 12