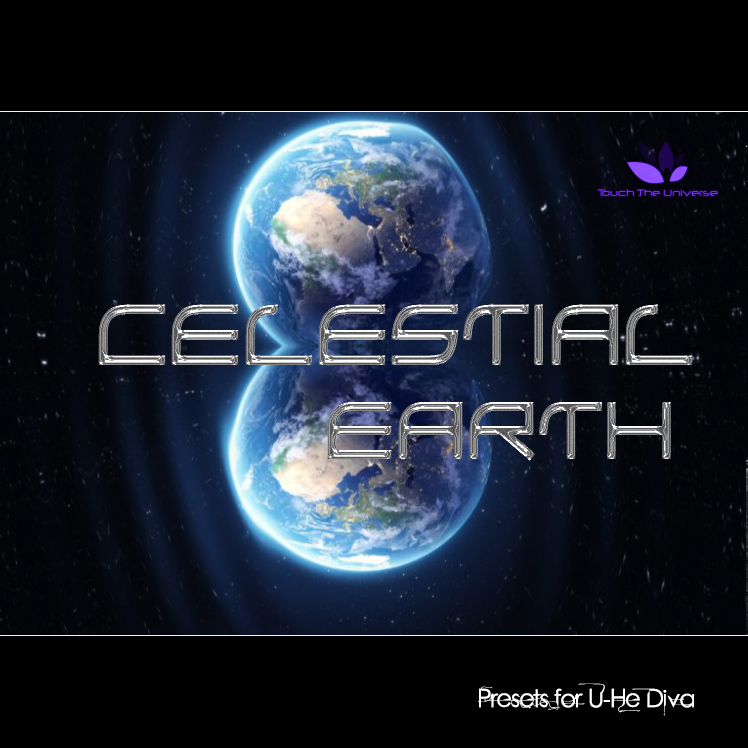 Greetings wonderful people, I humbly bring forth another beauty for Diva, Celestial Earth. May her beauty illuminate your creative projects and her morphic resonance field flower and bring inspiration to your sessions, as they entwine with majestic petals of harmony, flowing through sonic fields of sunlit beams. With this soundset, kiss her lips and take her hand, and be guided to the most enchanting sonic dimensions. Intertwine yourself in diva, her divine love, attraction, and analog signal flows. May her timbres illuminate harmony unto man coexisting with high technology and nature.
The Celestial Earth Soundset for Diva contains 97 high quality presets suitable for any contemporary electronic and ambient music genres. It includes a well balanced assortment of presets spread out across a diverse category of patches, including soundscapes, basses, leads, pads, plucks, keys, and sequences. They were designed to not only sound as beautiful as possible, but to have a high degree of expression with extensive modulation assignments via pitchweel, modwheel, velocity, and aftertouch. In addition, Celestial Earth is a tasteful fusion of both old and new styles alike, including the best of the retro sound with the best of what the future has brought since many of the iconic synths from yesteryear.
Highlights
Includes 97 Presets
For your convenience, patches are organized by either type (bass, lead, etc) or all in one folder.
All patches are volume normalized. (They won't clip and have equal volume levels when scanning between presets)
Complex Modulation Wheel destinations for all patches. All patches also utilize velocity sensitivity.
Patches created in the latest version of Diva.
Easily installation procedure with detailed instructions with images.
Patch Breakdown
Basses - 15
Leads - 25
Pads - 19
Plucks - 16
Arps - 20
FX - 1